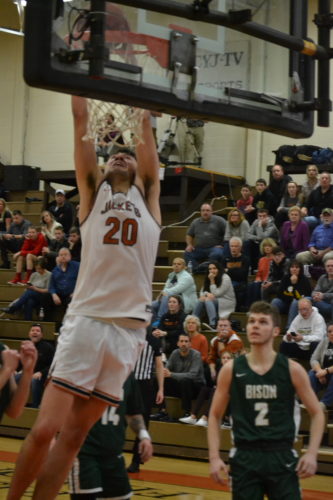 Ty McEliece- The Yellow Jacket
The Waynesburg University men's basketball got the best of the Bethany Bison Saturday afternoon, and the 73-65 win was extra sweet for the senior class, who had yet to beat Bethany prior to Saturday.
"It felt really good," said senior Cam Auld. "I know we try to prep the same way for all of our opponents, but this was one we really wanted." 
Waynesburg was in command from the start. The Jackets jumped out to a 29-6 lead early and went into the locker room up 42-26. Isaiah Alonzo led Waynesurg with 19 points in the first half, and senior Frank Bozicevic added 10. 
In the second half, however, Bethany started to make a comeback, and got within five of Waynesburg, but the Jackets' free throw shooting in the final minute kept their lead out of reach.
"It's a 40-minute game, so there's a lot of ebbs and flows to it," coach Tim Fusina said. 
Fusina was happy with the team's defensive effort. They held Bethany to 10%shooting from three. The Bison made 3-30 from beyond the arc.
Alonzo had a busy day, putting up 25 points and nine rebounds, narrowly missing a double-double. For Fusina, the key to Alonzo's success was using his 6'10 frame to dominate down low. 
"[Scoring] in the post. Finishing at the rim. Getting to the line. That's what he did," Fusina said.
Alonzo wasn't the only Jacket to post impressive numbers. Freshman Ryan Feldberg had 14 points, and the senior duo of Bozicevic and Brennan Smith also had 12 and 10, respectively.
Bethany's late charge was aided by Dalton Hamrick's 13-point second half. Hamrick led the Bison in scoring with 19 points off of the bench.
Waynesburg's victory was emotional because it was the seniors first win against Bethany, but also because it was the seniors final game at the Rudy Marisa Fieldhouse. If the Jackets make a run in the Presidents' Athletic Conference tournament, they'll have to do so as the seventh seed. 
"It didn't hit me until after the game ended and I gave B [Brennan Smith] Sam [Heeter] and Frank [Bozicevic] a hug and it kinda hit me in the face," Auld said."Like wow. The memories, everything we've done here, [Waynesburg is] definitely a special place."
While it may have been their last home game, Waynesburg has  a playoff game to prepare for. On Tuesday the Jackets will head to Pittsburgh to take on Chatham for the opening round of the PAC playoffs.
Auld has faith in his team's abilities for Tuesday and believes any game is winnable. He mentioned that this team has been streaky, and wants it  to continue this hot streak through the PAC playoffs.
"This tournament has no team that's just going to show up and win," Auld said. It will be a battle of wills through Saturday."