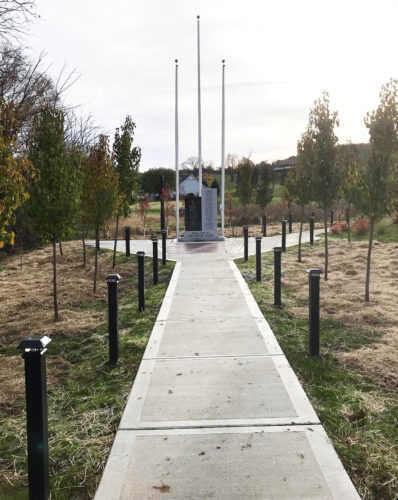 Glenn Toothman
It all started 16 years ago, when Glenn Toothman, Founder and CEO of Memory Medallion Inc., and Candice Buchanan, a board-certified genealogist with a master's degree in public history from Duquesne University, started writing a book called "The Rain Day Boys."  
The book focused on the soldiers of World War I from Greene County and Company K. The more the duo looked into the history of the Rain Day Boys, the deeper the history became. According to both Toothman and Buchanan, there are familial connections to the soldiers everywhere.
"After 16 years of research," said Toothman, "We wanted to get the book finished in time for the 100-year anniversary."
Both Toothman and Buchanan traveled to France to conduct a portion of their research.
"When we were in France, we were awestruck by how the French remember the events of World War I," said Toothman. "I mean they had memorials all over the place to honor all of the lives lost."
Buchanan and Toothman came to the conclusion that honoring those lives lost needed to be done here in Greene County in the same way.
"One really unique thing about all of France's memorials was that all of their memorials are lined with trees," said Buchanon. "In a way, the tree equals the lives they represent. The memorial [in Greene County] will also be lined with trees to represent the lives of the soldiers lost in the war."
The memorial, which will be dedicated Nov.11, Veterans Day, will be 100 yards long with two rows of 29 trees. Each tree will be placed 10 feet apart from one another. Those 58 total trees represent the 58 soldiers who sacrificed their lives in the war.
Each of the soldier's trees will have a solar-powered garden light and memory medallion. The medallions can be read by smartphones, which will give visitors access to each soldier's story. All of the information in the medilians was provided by family members and through the research of Toothman and Buchanan. Some of those medallions include training footage from the 24 soldiers who were a part of Company K.
"It's going to be really overwhelming to see all these families come forward after all these years of helping with our research," said Buchanan. "We had so many different families that shared lineage with the Rain Day Boys come forward and share photos and stories and letters from them with us."
The dedication of the memorial will last approximately one hour, when Waynesburg University President Douglas Lee will speak, along with Major General Bruce E. Hackett, commanding general of the 80th training command. Four of the 58 soldiers came from what is now Hackett's division.
Buchanan will read the letter of euphoria when the Armistice occurred, and then each of the 58 names will be read and recognized. The event will conclude with the playing of Taps on the bagpipes.
The service will be held at 918 Rolling Meadows Rd, Sunday, Nov. 11 at 11 a.m.