The Goodwin Performing Arts Center at Waynesburg University bustled with citizens, corporate representatives and local government officials Tuesday, as the Greene County Commissioners presented a comprehensive economic plan. Greene County has waited for more than a year for the new marketing strategy that they hope will usher in a new economic age for the county.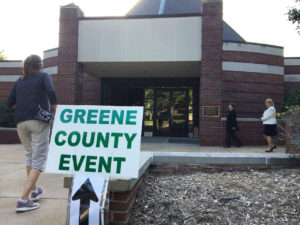 "This is the tool of our future," Blair Zimmerman, chairman of the Greene County Commissioners said during the presentation." This is what we will use with corporations and companies [to] bring them here. You all heard from all of our speakers what's going on here, and the opportunities are endless."
The plan revealed is "Greene County PA: A Powerful Place," which strives to attract businesses by focusing on six aspects of the county: mobility, transportation, and infrastructure; workforce and education; business and industry; quality of life; growing and protecting assets; and local government.
"With everything Greene County has available to it, it is inevitable that you'll emerge in places well beyond Pennsylvania's borders,"  Denise Brinley, executive director of the Governor's Office of Energy, said. 
With Jim Protin, project manager for Greene County, hosting the reveal, Zimmerman and Douglas Lee, president of Waynesburg University, gave short welcoming messages. Brinley, Zach Smith, manager of external affairs at CONSOL, and Jerry Tompson, project manager of Forge the Future, spoke of the many aspects that went into this new marketing strategy.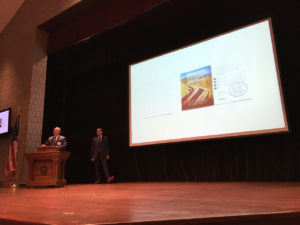 "So we are in what I would call a global energy transition, where business, government and residents alike are accelerating the search for cleaner forms of energy," Brinley said. "Pennsylvania, with its exceptionally diverse energy system, is well-positioned to lead the way in navigating that transition." 
While energy is the area's forte, the speakers believe the best course of action to bring jobs into the county is to attract manufacturing firms with their natural resources.
"The more you look at the prospects for increasing the economic activity here, it really feels a little less like an 'energy play' and more like a 'manufacturing industries of the future play,'" Tompson said.
Energy isn't the only advantage in the area. Prontin emphasized the transportation infrastructure of the county, particularly the Monongahela River.
"The river is a critical piece of infrastructure. The industrial and recreational Monongahela River comes right by us and leads us by my friends up in Mid Mon Valley, all the way up to… Pittsburgh," Protin said. "So we're all tied together, from Cheat Lake all the way down to 'The Point' in Pittsburgh. This river is the most important infrastructure that we have at our disposal."  
With "Greene County PA: A Powerful Place" now launched, the plan now is to start conversations with manufacturer firms with handouts, website and video that Protin and his co-workers created.
"Everything is officially launched, and now we go out and start contacting firms," Protin said. "We'll be blasting this out on social media – Facebook, Instagram, LinkedIn, the whole nine yards."