Purple Heart recipient dies after saving life
Don Osteen, age 69, lost his life last Monday after suffering from a heart attack during a necessary surgery he was receiving, due to his involvement in an explosion inside a home. Osteen, who received the Purple Heart for his efforts during the Vietnam War, saved his 3-year-old granddaughter after the Oklahoma house exploded. Osteen saved Paeytn, who suffered burns on over 30 percent of her body, but survived the explosion. Osteen suffered burns on over 78 percent of his body, as well as other injuries that lead to the surgery.
Giuliani to aid Trump in impeachment troubles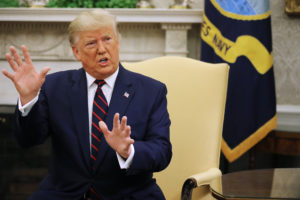 Following the news of House Speaker Nancy Pelosi bringing forth an official inquiry for impeachment against President Donald Trump last week, his personal attorney and the former mayor of New York City Rudy Giuliani spoke out Sunday stating, he would consider cooperating with House Intelligence Chair Adam Schiff but made no direct promises. He stated he would "consider it," but didn't pledge to anything in particular, going on to say Trump would have to direct him. Giuliani doesn't believe Schiff is a sufficient chair, calling him an "illegitimate chairman."
Officer killed with own gun in New York City
Sunday morning a New York City police officer lost his life during the arrest of an armed assailant in the Bronx. Officer Brian Mulkeen was assigned to an area where gang activity was present. The officer's gun was fired five times, but it wasn't known if the officer actually shot it. The officer was shot in the struggle and died shortly after. Mulkeen had served seven years. Mayor Bill de Blasio said all flags in N.Y.C. would be lowered to half-staff in remembrance of Mulkeen.