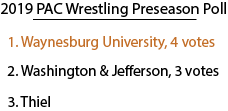 Created by Luke Goodling
After narrowly repeating as Presidents' Athletic Conference champions, edging out Washington & Jefferson last year 107.5 to 99.5, the Waynesburg University wrestling team is set to continue its reign for the third-straight season this Friday.
While the Yellow Jackets have two individual PAC champions on the roster in junior 197-pounder Ken Burrs and senior heavyweight and reigning national champion Jake Evans, Burrs will miss the tournament this year due to a hand injury that has sidelined him for the past few weeks. The plan, according to head coach Ron Headlee, is to have him return for the regional tournament if all goes well.
When assessing the chances of winning his seventh PAC title as head coach of Waynesburg, Headlee believes the competition will be similar to last year—and therefore, the tournament will come down to the wire.
"It's going to be really close," Headlee said. "The way you draw it out on paper, it could be five or six points either way. There are a lot of swing matches that could go either way. There are a lot of close weight classes."
In particular, one of the toughest weight classes, according to Headlee, will be 157 pounds, where Waynesburg junior Zach Mackall (25-13) will likely square off against the likes of W&J's Hunter Neely (20-1) and Thiel senior Jason Miller, who beat Mackall earlier this season 15-11.
After winning the past three 285-pound titles at the PAC championship, Evans (42-1) looks poised to repeat for the fourth-straight year after pinning both Thiel and W&J's respective heavyweights earlier in the season.
Other wrestlers that Headlee said have strong chances to contend for titles this weekend include sophomore Josh Kuslock at 133 pounds, junior Matt Lascola at 141 pounds and freshman 174-pounder Tony Welsh, among others that he anticipates having major contributions.
One of the biggest differences in this year's PAC championship compared to the past two years is the return to a three-team tournament with the departure of Thomas More.
"There are no matches that you can take lightly. I think there are a lot of even matches—probably more so than ever just with three teams," Headlee said. "I liked having the four-team with [Thomas More] and it was more competition—it was more like a regular tournament. Just going back to three kind of hurts a little bit I think."
From a team perspective, Waynesburg topped both W&J (24-21) and Thiel (23-17) in dual matches earlier in the season. The Presidents hold the best overall record of the three teams at 7-4, while the Yellow Jackets are 7-7 overall and the Tomcats enter the tournament this weekend at 5-4.
When it comes down to it, though, the team scores are dependent on the results of each individual wrestler. First-place finishes gather the most points, but wins by major decision, technical fall and pin give each team bonus points that, according to Headlee, could make all the difference when it comes down to which team grabs the title.
When it comes to the individual champions, Headlee sees the PAC tournament as a stepping stone towards the regional tournament, and eventually the national tournament.
"It's always our goal each year to have guys win individual titles. That's one of the things I think if you're wanting to win a regional title, you have to find a way to win a PAC title," Headlee said. "There's a lot of good guys I think that could come out of our small, little conference. It's kind of neat that we can still do well at the regional [tournament]."
Despite the small field of the PAC, compared to other conference's nationwide, the teams within the conference still manage to compete on the national level. In each year since 2013, the conference has had at least one All-American representative.
According to Headlee and historically speaking, fans following the PAC this weekend are likely to see wrestlers that eventually will be competing at the national tournament later this year.
"You look at it and a lot of people say 'well, you only have three teams in your conference,'" Headlee said. "But if you look at the history, almost every year we have had an All-American coming out of our three teams like that. On the national level, our small conference does pretty well."
The PAC championship will take place Friday, Feb. 8, starting at 5 p.m. in Greenville, Pennsylvania.
"I'm looking forward to it. It's a good challenge for our guys," Headlee said. "It's not going to be easy, but hopefully guys come through. I just hope we wrestle hard and come out and don't back down from the challenge."