Lydia Polarine
For some, paintings and sculptures are a curiosity, making observers search for an artist's meaning behind an artistic piece. 
For the artist, these paintings and sculptures are a way to express and communicate emotions and ideas that would be difficult to express in other ways. For Waynesburg University senior Lydia Polarine, this is the case.
On Feb. 24, Polarine's senior art exhibit opened; displaying pieces that she had created throughout her time at Waynesburg. 
Her exhibit featured pieces made from a variety of materials including clay and ink, her favorite materials to work with.
"I like working with ink because of the preciseness of a pen or printing block, as well as the ability to convey a mood simply by the pen's strokes," Polarine said to guests in a leaflet that was handed out to visitors at the exhibit.
"I find clay exciting to work with because it is very rewarding to turn a sticky ball of clay into a glazed bottle, textured jar or a hanging installation," Polarine said in the handout.
Her hanging installation, titled Pray for Rain, was the first installation piece she ever made. Polarine was inspired to create the installation because she wanted to recognize how dependent and helpless we are as humans, and when everything is falling apart around us, all we can do is pray that things will get better.
Polarine's childhood was filled with creativity and art as well, fueling her love for the art she creates.
"I've been making art for my entire life. I don't really remember a time before I made art. I was constantly drawing. I was the kid that sat in the corner during recess drawing while everyone else was playing on the swings," Polarine said.
To graduate, all senior art majors at Waynesburg must put on a senior exhibit, but it isn't viewed as a burden. The exhibit is an exciting time to celebrate the artist's accomplishments.
"It's so surreal for me. I knew starting this program that this [the exhibit] was going to be a thing that I was going to be able to do, but the fact that I've made it this far and this is actually happening and all of my work is here, I'm very proud of myself for being able to accomplish it," Polarine said.
Polarine is a double major in art and psychology. She believes that her passion for both topics reflect one another.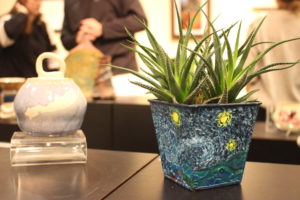 "A lot of my art plays with emotions. A lot of them show sadness, happiness and longing. Almost all of my art comes from some sort of emotion," Polarine said.
For her future, Polarine is hoping to go to graduate school to become an art therapist, working with adolescents and young adults who struggle with mental illnesses and teaching them how to use art as a coping mechanism.
Polarine also hopes to inspire younger artists to continue doing what they love without fear or comparison.
"There's so much hesitation around art a lot of times like, 'oh, maybe I should, but maybe I'm not good enough.' Just do it. Whatever you make is going to be great. Do it and keep at it. As long as it makes you happy, that's the thing for you."